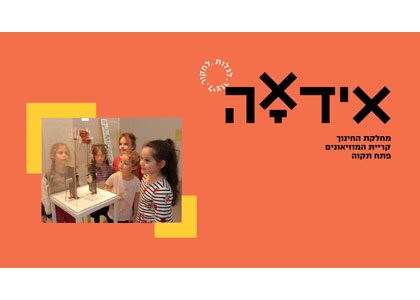 "Art is not what you see, but what you make others see."
— Edgar Degas
Contemporary art mirrors our society, familiarizing us with it and enabling us to understand and see ourselves in it. The Education Department regards itself as a bridge between the exhibitions staged at the museum and its diverse audiences. A guided visit to the museum includes a tour of the exhibition followed by a hands-on workshop or a lecture, adapted to the pupils' respective age group: kindergarten, primary school, junior high school, or high school. In addition, there are also programs for children with special needs.
The creative workshops for kindergarten and primary school children allow them to translate what they experienced during the visit into form, color, and matter. Older pupils are offered a choice from a series of lectures accentuating the link between the language of art and Israeli current affairs. The guided programs for pupils are constructed while keeping the broad context of the school curriculum in mind. The visit itinerary is outlined in collaboration with the commissioning institute. It is advisable to prepare a set of meetings.
The guidance team of the Educating Department includes active artists and educators. Its major goals are to stimulate the senses and trigger thought, to encourage in-depth contemplation and creative thinking, and above all—to bring youngsters closer to contemporary art and help them conduct a dialogue with it in order to foster a new generation of art lovers.
For guided group tours and seminars, please contact Ariela, Marketing Department: 03-9286304
Sun.-Thurs. 8:00 a.m.-4:30 p.m.
Fax: 03-9223026
arielak@ptikva.org.il