Dani Mass Collection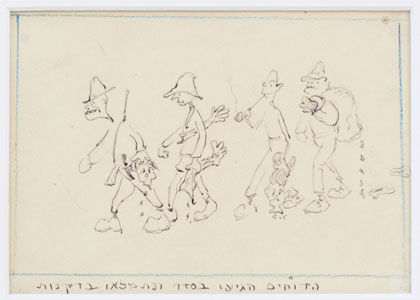 27 Drawings by Dani Mass (1923-1948) donated to the Museum after his death by his father
Dani Mass served in the Palmach (Jewish strike force in Mandatory Palestine). In January 1948, some four months before the State of Israel was declared, he headed a platoon of 35 select young soldiers to offer assistance and ammunition to besieged Gush Ezyon. Mass was killed in an attack by an Arab force which encircled the platoon.
His 27 drawings in the Collection were donated to the Museum by his father, owner of the renowned Jerusalem-based publishing house Reuven Mass, still in the family's possession. The drawings depict figures from Mass's studies in the Hebrew Gymnasium (Secondary School) in Jerusalem, teachers and classmates; scenes from Palmach life; and scenes of battle, such as soldiers in ambush, lying face down, with flowers and a flowerpot on their feet as camouflage or soldiers returning from action with the bodies of their compatriots. Other drawings relate to kibbutz life, which at the time included work and training, and to the everyday: Tabenkin in bathrobe and slippers; the line at the showers early in the morning. Especially moving are the drawings portraying figures of leaders, personages, and friends from the period. In an exhibition from this Collection staged at the Museum, one wall was dedicated to paintings and photographs of these people: their appearance in life and the way in which they were depicted by Mass. One visitor to the exhibition recognized his father, a senior officer in the Palmach. Another Palmach member, who arrived at the museum with a group of Palmach veterans, recognized his name in a scene depicted in one of the works. Another moving encounter occurred when a young woman, who was Mass's girlfriend at the time, with whom he corresponded, arrived at the opening and identified herself to children who were also visiting the show.