Ruja and Arie Dobron collection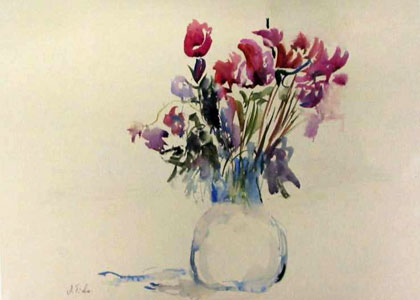 Approximately 134 artworks donated by the gardener-collector, Arie Dobron (1906-1999) , including works by Anna Ticho, Moshe Mokady, Haim Gliksberg, Nahum Gutman, Yosl Bergner, and others.
The Ruja and Arie Dobron Collection is an independent section in the Museum's overall collection, with forms and contents of its own. It was founded in the late 1970s as a donation of 120 works in diverse media bestowed by Arie Dobron to the Museum in memory of his late wife, Ruja. The Collection spans 134 works donated to the Museum over the years.
Dobron was a veteran Petach Tikvan gardener and an ardent collector of Israeli art. Like many collections in Israel and abroad, which began as private collections, later forming the nucleus of a museum collection, the Dobron Collection forms the core of the Petach Tikva Museum of Art's collection.
The works in the Collection were gathered based on the collector's personal bents, taste preferences, and friendships with artists. The Collection is based on Dobron's love for the evolving local art. Rather than a collection based on an intellectual concept, its composition resulted, among others, from constraints dictated by Dobron's modest way of life: the works comprising it are mostly small in scale (in congruence with the dimensions of his modest home, which sagged under the paintings' weight), attesting to meticulousness in quality, even if not necessarily the artists' best works. Essentially, it is a quintessential collection of Eretz-Israeli painting, centered on figurative painting from the 1930s to the 1970s, with distinctive influence of the School of Paris.