Ayala Landow: Mud-Dough
Curator: Danielle Tzadka-Cohen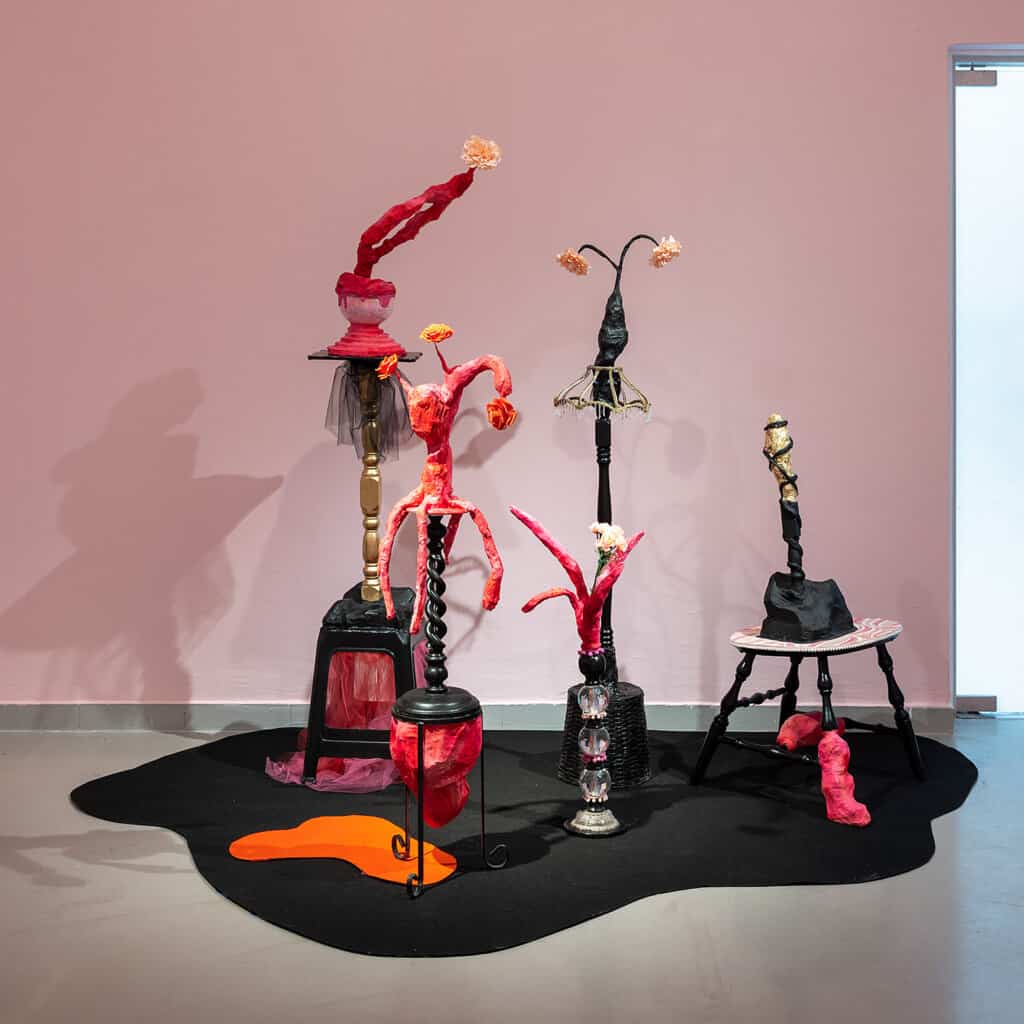 In her exhibition "Mud-Dough," Ayala Landow constructs an alternate reality, a space containing external and internal elements, a blend of times, and hybrid crosses between desires and prohibitions. Following a primal visual code that echoes prayer spaces oscillating between the holy and the profane, this reality is interspersed with transitional objects that mediate between the physical world and the worlds of fantasy. The artist, assuming the role of shaman, rearranges objects displaced from everyday life, dressing them with an aura of singularity, and harnessing them to depart for other worlds.
Amorphous tumor-like masses of varying material frequencies—expansion, eruption, assimilation—are scattered in the exhibition space, illustrating the tension between the abstract and everything delimited and defined, in structure and in form. Much like an out-of-body experience, the departure from the physical boundaries begins with the body, crosses into the domestic sphere, and finally goes out into the landscape. These territories are set for looped entry and exit, like surreal habitats.
Using found objects and unconventional materials, combined with textiles and paper works, Landow creates intricate compositions that push the medium boundaries of sculpture and painting. Her works expand the range of artistic means and challenge the traditional concepts of beauty based on an index of sorts, an iconographic system of symbols all her own. These sculptures-objects are made of cheap dime store accessories, some of which are decorated with layers of tulle and lace; others look like they have grown tails. Red-headed figures, planted in "natural" environments of snakes, butterflies, artificial flowers, and ornaments from other eras and cultures, spin a fictional mythology of an enchanted feminine ritual. Via painstaking manual work, Landow sculpts wings for her paintings so that they may soar, transforming the space into a contemporary material sanctuary. This alternate reality, whose borders are constantly being breached, is motivated by urges, topped with colorful cake icing.
Ayala Landow was born in Jerusalem, 1982; lives and works in Jerusalem.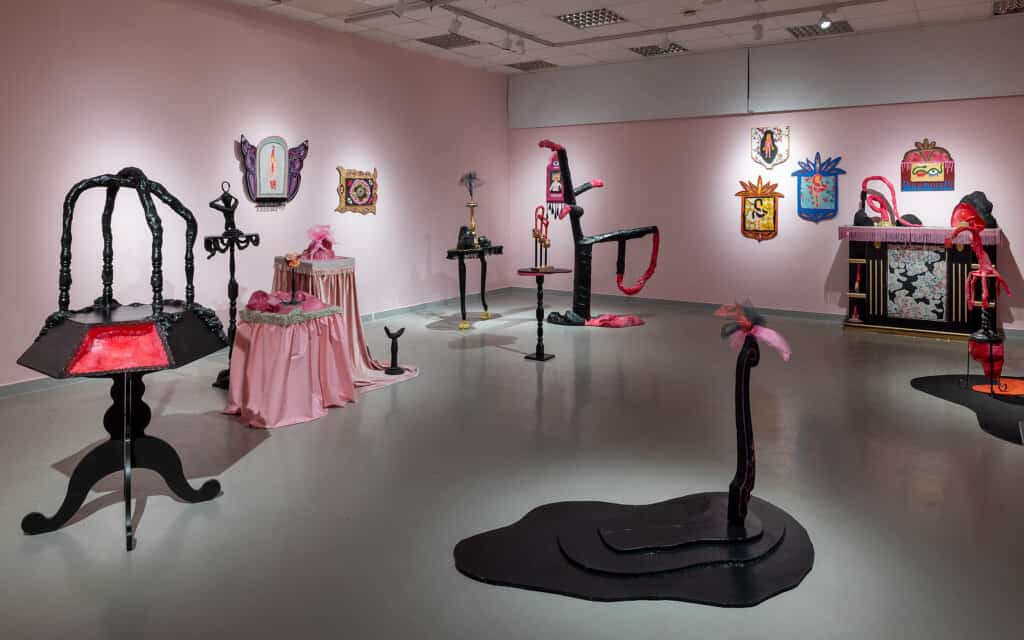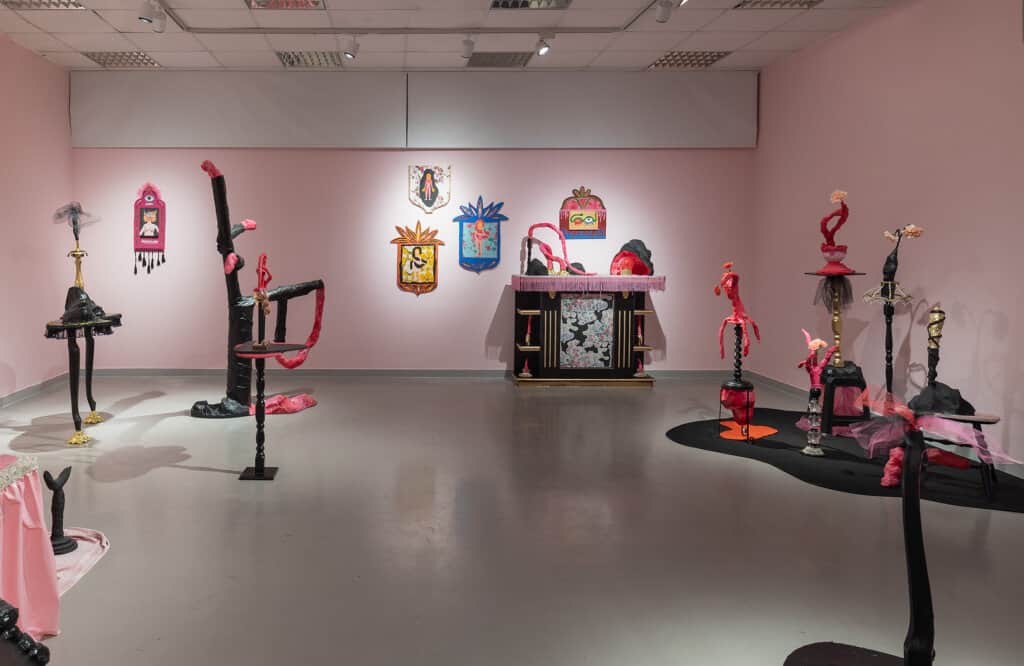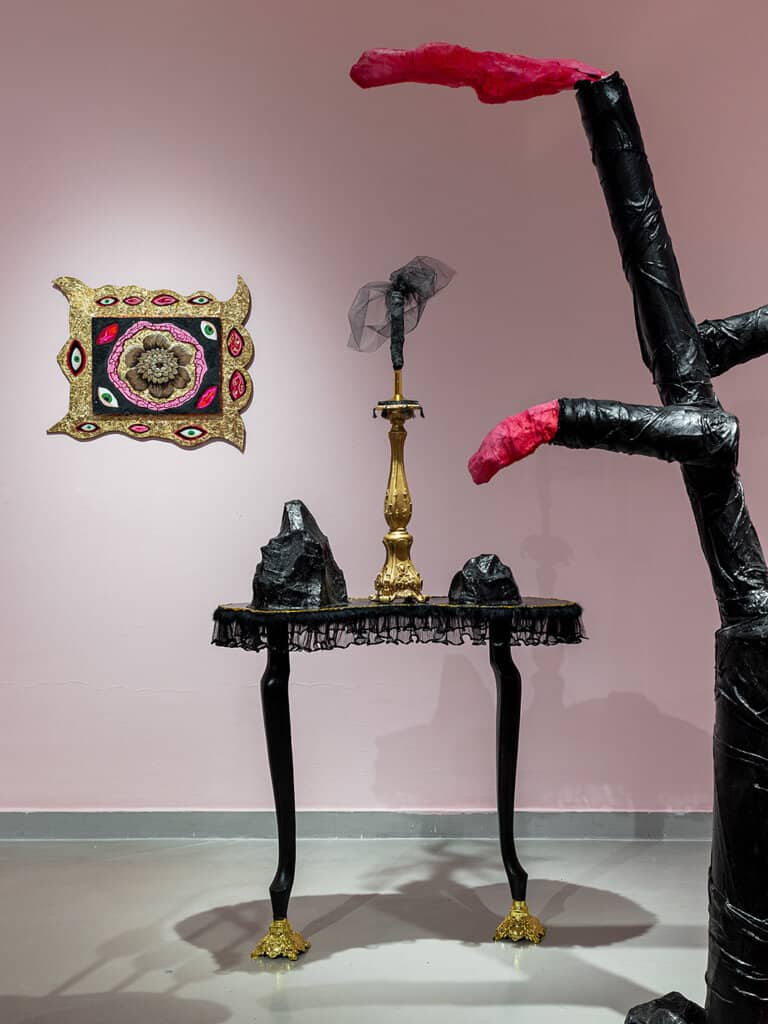 Installation photographs: Elad Sarig