Special project: Feature | Shezad Dawood
Curator: Drorit Gut Arie, presented at the Spot, Cinema and Media Room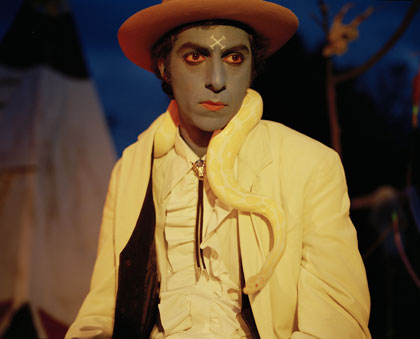 An offspring of "multiculturalism," a British artist born to an Indian father and a Pakistani mother, Shezad Dawood's works undermine the rigid division between cultures and nations. In Feature he has created a new, hybrid cinematic genre based on the American Western, yet one which takes place in the British countryside. It is a Western which was invaded and bisected by other cinematic genres, among them zombie movies, Wagnerian opera, Viking films, etc.
A cinematic work typically invites us to pursue the unfolding of a plot, thereby revealing a cohesive story. Dawood's film, on the other hand, does not yield to these expectations. In order to view it, one must suspend the search for the prevalent conventions of cinema. Rather than seeking logic, one may surrender to the illogical, which requires us to abandon the search for order, sequence, cultural narrative, and historical justice. Dawood criticizes the West and its colonialist aspirations, yet conveys that critique by means of humor and techniques derived from fiction film.
Shezad Dawood (1974), an artist, curator, and scholar, was trained at Central St Martin's and the Royal College of Art before undertaking a PhD at Leeds University. His works have been exhibited throughout the world, in such venues as Tate Britain, London; Videonale, Taiwan; the Venice Biennale; etc.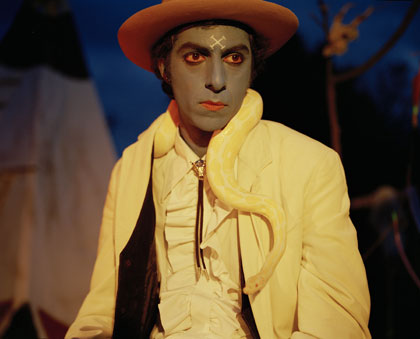 Shezad Dawood, Feature, 2008, video, 51:15 min