Initial Concept
Curator: Drorit Gur Arie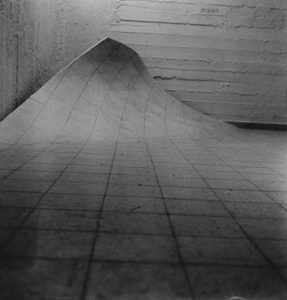 The work Collapsible Floor was first presented in a group exhibition entitled "Corners" curated by Ran Shechori in February 1973 at Blatman Gallery, Tel Aviv (where Chelouche Gallery is currently housed). The exhibition set out to create an "environment" in the space – what is now often termed "installation" – and featured such artists as Nahum Tevet, Michal Naaman, and Gad Ullman.
Gechtman's installation was based on the conceptual language typical of the 1970s, and explored the boundaries of the artistic language itself. Gechtman created a type of folded corner which simulated the gallery's terrazzo floor tiles. Its creation involved physical labor as well as time and effort, yet its fate was to be disassembled and destroyed at the end of the show.
The corner-folding idea stemmed from the artist's desire to create a piece that would interfere with the space, transform it and become an inseparable part of it; a site-specific work consisting of an object which can neither be removed nor shifted from its environment. Gechtman's ongoing engagement with images and substitutes, with real and fake, permanent and variable, is discernible in this early work which explored the relationship between image and origin, high and low, between the artificial and inexpensive, and the genuine and authentic. This theme gradually evolved in his works, and was manifested, inter alia, in the use of "popular" materials, such as plastic, Formica and MDF, which masquerade as superior materials, like marble and wood. Thus, for example, in 1972 he created a work entitled Cast Fabric, where he simulated a piece of white fabric by means of a Fiberglass cast mould. During that period he also created several brush works made of horse hair, vegetable fibers and synthetic materials, alongside a series of brushes made of his own cut hair and that of his family members.
In Collapsible Floor, Gechtman also explored the artist's own action – an act of physical strain, after which the object is consumed and dissolves. The exhibition was on view for three weeks, and its mounting, unmounting, and removal from the gallery space involved strained labor – one of the values often addressed by Gechtman in his oeuvre (as in the piece Hebrew Work).
The present reconstruction of Collapsible Floor relates to the exhibition space of the Petach Tikva Museum of Art, and especially to its concrete floor. It was created by painting with industrial oil paint.