Mordecai Moreh: An Almost Sane World
Curator: Irena Gordon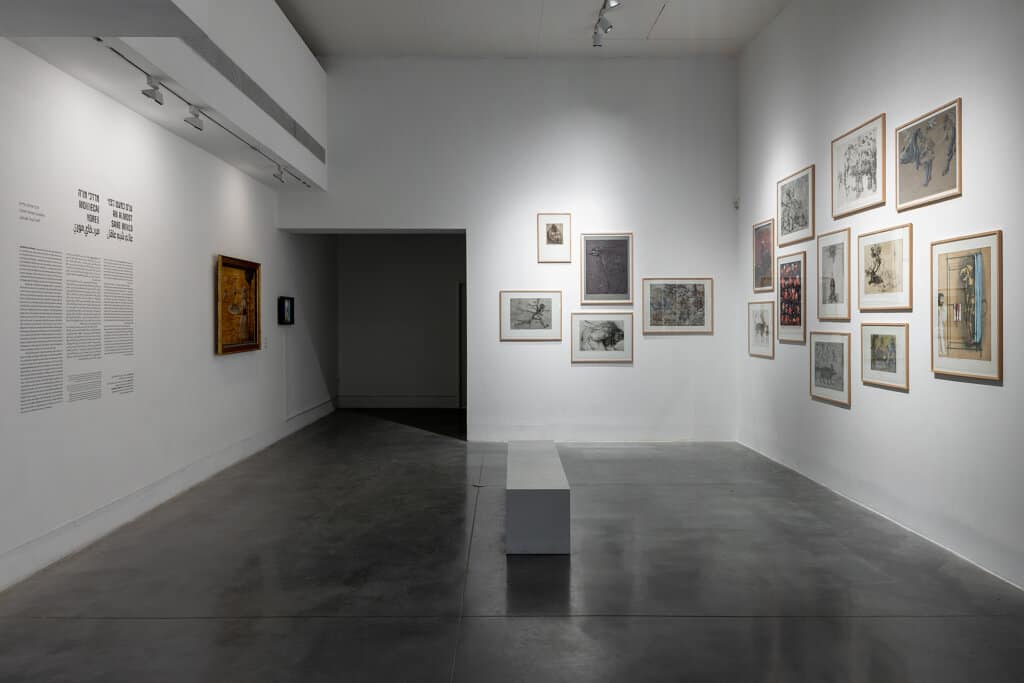 Mordecai Moreh's ongoing work since the 1960s has focused on carnivalesque, allegorical, and fantastic worlds which seem to crystallize before the viewer's eyes via painting, drawing, and printmaking techniques—specifically drypoint,* which has come to be identified with him due to the extraordinary virtuosity he has developed in his works. The exhibition "An Almost Sane World" presents works from different periods, offering a glimpse of Moreh's unique language, which is based on the history of Western art combined with literary symbolism (from medieval bestiaries to Alice in Wonderland) and religious (Jewish and Christian) iconography.
Employing a contemporary language, Moreh—a graduate of the Bezalel Academy of Art, Jerusalem, who continued his studied at the Florence Academy of Fine Arts and the Beaux-Arts de Paris—draws on the painterly and graphic work of such artists as Albrecht Dürer, Matthias Grünewald, Pieter Bruegel, Hieronymus Bosch, Francisco Goya, and Odilon Redon, observing violence, suffering, and absurdity around him. Many of his works feature animals—rhinoceros, elephant, hare, ram, owl, bison—representing human beings, their characteristics and existential state. Haunted, their bodies are pierced with St. Sebastian's arrows; at the same time, they are the ones in command, leading the humans, who believe that control is in their hands. These, however, are not mere allegories in which the animals stand for different human types but drawing compositions and intersections of man and animal. It is the animal itself that suffers; whether persecuted or at peace, it observes the world and sets out on a spiritual quest, whereas man is a beast, a hybrid creature, half-human, half-bird. Moreh's animals and humans are often placed in surrealistic, circus-like situations, where everything is possible, inverted, and radicalized.
Animals also appear in Moreh's paintings, which delve into mystical worlds and engage with the power to detach oneself from the vicissitudes of reality into other realms of consciousness. These worlds are depicted as meditative paradises; at the heart of the painting Betrothal, featured in the exhibition, is the image of the heavenly bride, who represents the people of Israel, as a visual, physical, and emotional backbone, holding an olive leaf, flanked on one side by the Tree of Knowledge and the serpent, and on the other—by the Garden of Eden, strewn with religious symbols: water of purification, and a white dove symbolizing hope and peace (in Judaism), the spirit and soul (in Christianity). A pendant is tied around the bride's feet with a prayer shawl (tallith) and phylacteries (tefillin), with an egg at its end—a symbol of joy and mourning in Judaism, which also alludes to the Renaissance, and to Piero della Francesca's The Brera Madonna. Between these worlds stands the figure of the artist, an egg hanging over his head, as one who is forced to touch the liminal essence of existence.
Mordecai Moreh was born in Baghdad, 1937; immigrated to Israel in 1951; has lived and worked in Paris and Jerusalem since 1961.
* Drypoint is an intaglio printmaking technique in which a zinc or copper plate is directly incised with a hard steel or diamond-tipped needle, without acid. The lines are incised into the metal plate, and the burr raised on either side of the cut holds the ink, yielding variegated and delicate, soft, velvety lines. Originating in late-15th-century Germany, this technique requires great technical skill.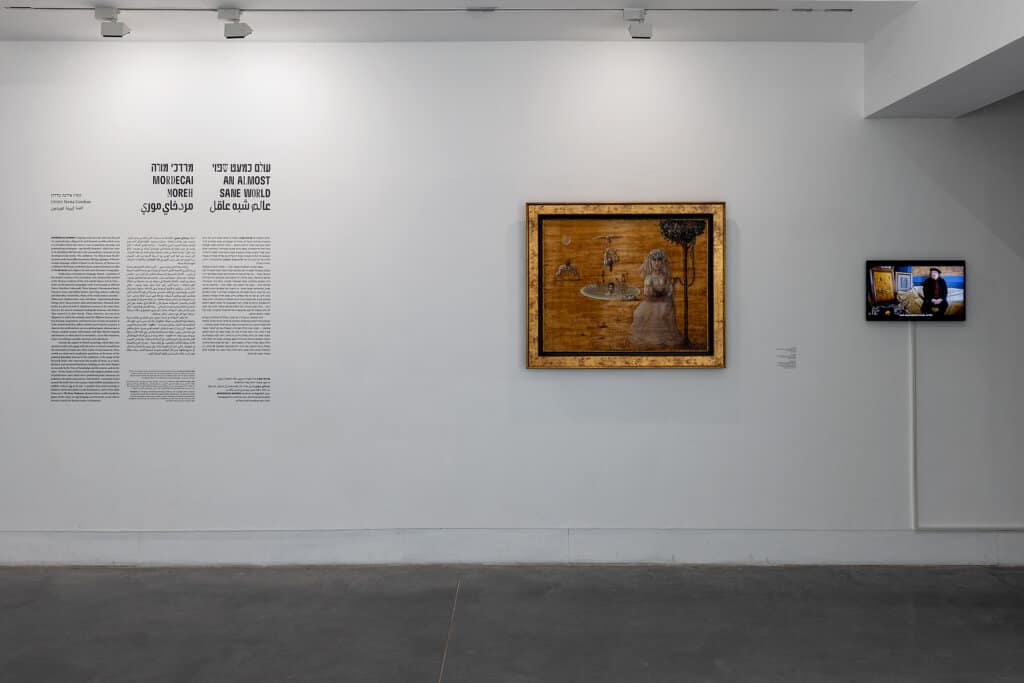 Installation photographs: Elad Sarig