Sound Map – Petach Tikva, Ilan Green
Curator: Drorit Gur Arie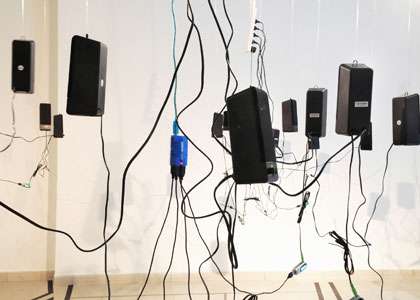 Artist and musician Ilan Green, former member of Israeli rock group Nikmat HaTractor (Tractor's Revenge) and one of the most prominent sound artists in Israel, has been involved in experimental music and its intersections with visual art for over a decade.
In his new sound installation, Petach Tikva Sound Map, Green returns, via sounds, to Petach Tikva's original, geographical outline, to its old streets. The sonic journey focuses on the town's first houses, an area which was once populated by artisans and craft workers of various kinds, among them bakers, tailors, shoemakers, and cart drivers, and is still rife with workshops and small industries.
In the exhibition space, the recordings are played from chandeliers suspended over the historical city map drawn on the floor, constituting the sound map. A black chandelier made of loudspeakers and electric wires, hanging from the ceiling and illuminating the floor drawing, triggers the existence of magnificent antique furniture made of frugal, mundane materials, thereby simulating the visibility of the city, then as now.
Green's work is based on combination and correspondence between present-day maps and late 19th century maps of the area, thus bridging the village's first sounds with those of the present-day city, and the image of history with that of contemporary urban reality.