Painting Bubble: Caricatures about Art
Curator: Reut Ferster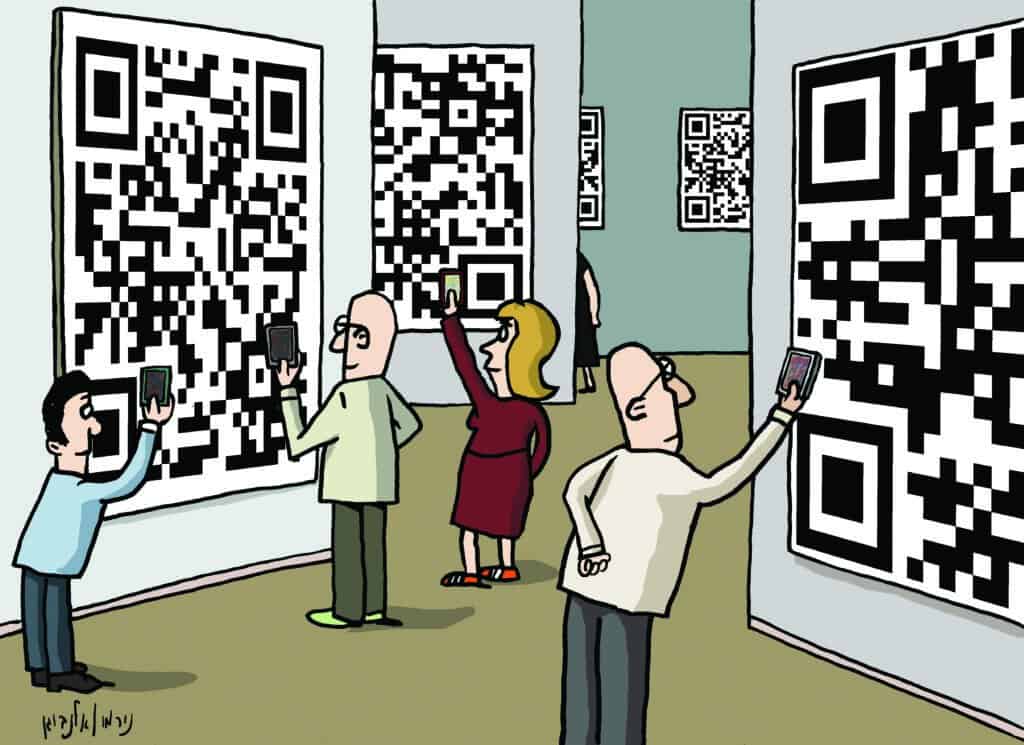 Nir Molad and Amos Ellenbogen
What does a person on a desert island paint? What does the grandfather of a digital clock look like, and what artwork does a dung beetle like to look at?
Nir Molad and Amos Ellenbogen open a porthole to a world rich in humor, sending viewers to reexamine their reality and views. The cartoons in the exhibition refer to the time and place of their display: they were created in the museum space where an exhibition centered on artificial intelligence is now being presented. This theme is reinforced by the technique used for their creation, since the cartoonists chose to draw some of the cartoons directly on the gallery walls. Scattered amidst the "murals" are prints, and the combination generates a humorous gaze at the activity of an art museum and technology's influence on life in general and art in particular.
The renowned cartoonist duo, recipients of the 2019 Golden Hedgehog Award, have been collaborating for the past 12 years, during which they have created, among others, the locally and internationally celebrated cartoon series Blisters.
Amos Ellenbogen — cartoonist, illustrator, journalist, and instructor of humor and creative thinking workshops, graduated from the Bezalel Academy of Arts and Design, Jerusalem; taught illustration at Shenkar College of Engineering, Design, and Art, Ramat Gan, and Sapir Academic College, Sderot; wrote a weekly column ("A Man's Word") in La'Isha; illustrated articles and published cartoons in the daily Yediot Aharonot, and the magazines Blazer, Einayim, etc.; authored the cartoon book Ten Reasons to Buy this Book, among others. Married + 3, a cooking fan, dives.
Nir Molad – scriptwriter, cartoonist, and animation director – published comics and cartoons in the weekly publications Iton Tel Aviv and Ha'ir, and in such magazines as Blender. Wrote scripts for teleplays and animated films, authored the cartoon book Sounds of Mussaka, and staged the stand-up show Antihero. Wrote, produced and directed the animated series Gogi and Magogi, Rapaport, and Guavas in the Mist. Single + cat, eggplant aficionado, snorkels.