Paul Kor Paints
Curator: Galit Mana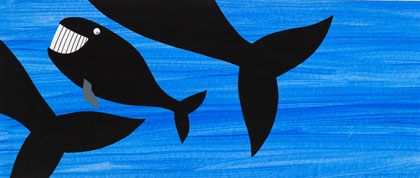 Paul Kor, Scene from Caspion the Little Fish, 1987, gouache on paper, bequest of Paul Kor
Thinking in Pictures

Paul Kor once reminisced: "I always used to paint…" As a child on summer vacations in the French countryside he spent long hours in the fields, observing nature, and created his own ink for painting from local flowers. Some of his children's stories are related to these childhood vacations.
No matter what Kor created – drawings, illustrations, posters or children's books – he conceived of his art essentially as painting. His artistic style became characterized by a confidently expressed original idea with the use of vibrant colors and clear contours.
Painting was central to Kor's human existence, life as an artist and his predominant means of communication. Painting's significance to the artist was evident when in the mid-1970s he abandoned his graphic design career and devoted himself entirely to painting.
The importance of the aesthetic aspect in Kor's oeuvre was equally apparent in his work aimed at children as for adults. He described the work process on a children's book as one picture succeeding another, the inspiration for which was often quite random and varied. Indeed, his book 'illustrations' were actually paintings that expressed a coherent plot and which preceded any written text. Often Kor experimented with different images until settling on a final version. His books incorporated the best materials and innovative design elements to encourage children to 'touch' the story and encounter the aesthetic and tactile experience created.
The heroes of Kor's stories are mostly animals emphasizing his preoccupation with their human characteristics. Are his characters intended as realistic representations of animals or animals with human rather than animal-like qualities? While there is a sense of humanism in his animals, as they have human characteristics, Kor's plots are multi-layered displaying a combination of themes and insights. So, at times, Kor's heroes are animal-like and at other times more humanistic.
The Israeli childhood experience is still shaped by Kor's books and artistic legacy. The posters he created in his early career contributed significantly to Israeli visual culture and molded his special humorous style which led to the witches' paintings, theatrical figures and the various animals. Kor's books invite us on an imaginative journey. The secret of his stories is hidden in these figures and animals – the heroes who smile at us from each page in every book, mostly created with brush and paint.
Galit Mana
Paul Kor, Scene from Caspion the Little Fish, 1987, gouache on paper, bequest of Paul Kor
Paul Kor, Study for a Coca Cola poster, 1971, gouache on paper, bequest of Paul Kor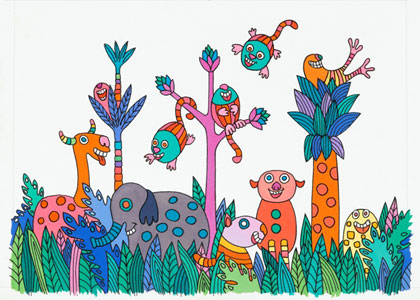 Paul Kor, Animals, from the series "A Beautiful World, 1969-73, gouache, watercolor, and felt-tip pens on paper, bequest of Paul Kor