Sagit Friedman Hallel: Double
Curator: Reut Ferster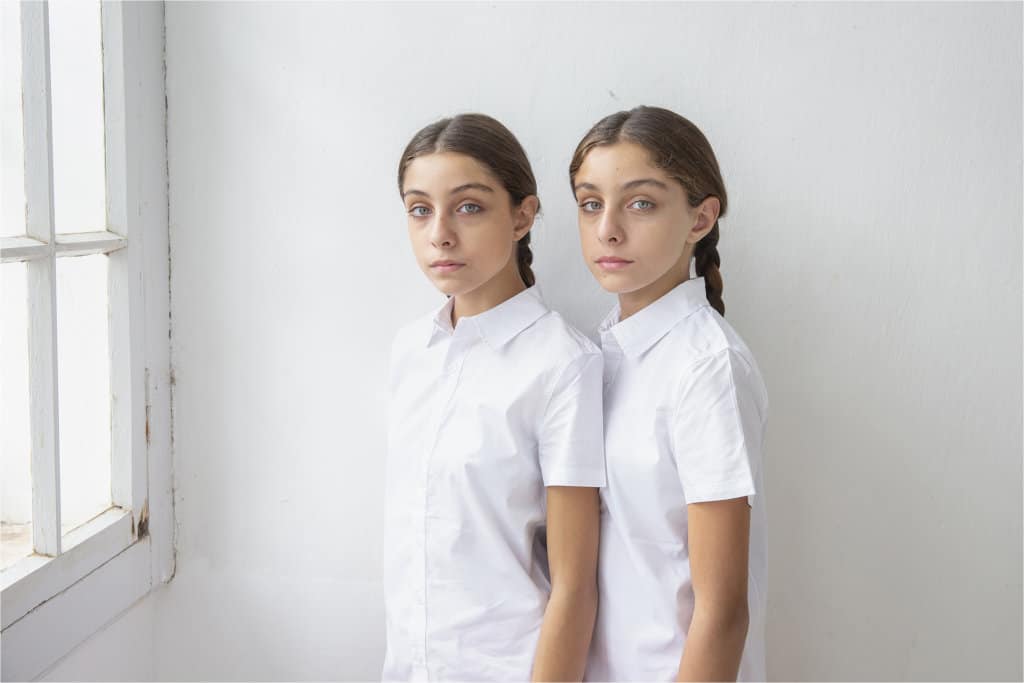 Nofar & Shani, 2017, Inkjet print on archival paper
Sagit Friedman Hallel chooses to stage a "double image" of identical twin girls, whom she dresses and combs in a style that is reminiscent of the early days of Jewish settlement in the country and the establishment of the State of Israel. She positions them in historic buildings, most of which served as children's homes, just before they vanish forever.
The phenomenon of identical twins has always fascinated human thought, due to the "double" existence that challenges the identity of the "self," while also embodying the longing for an unmediated physical, mental, and emotional connection with the other. Identical twins have had different iterations in the history of photography, from Diane Arbus's iconic twins of 1967 to the works of artists like Peter Zelewski, Martin Schoeller, and Loretta Lux. Friedman Hallel follows and documents pairs of twins from childhood through their adolescence. In the careful staging and selection from hundreds of frames, she insists on the subtle differences while underscoring the similarities between them. At the same time, she brings to the fore a latent layer of strangeness, alienation, and darkness that is also found in the spaces that she chooses to photograph, some of which serve as a backdrop for the portraits and others are portraits in their own right. Thus, in a photographic-cinematic act, Friedman Hallel introduces questions of identity and perception in the Israeli-local context.
"The choice of a double image, in uniform clothing and in institutional spaces," says the artist, "serves my fascination with the question of blurring and erasing individual identity and how it takes shape in the gap between childhood nostalgia and the emotional-social problematics that the history of these sites holds." One of the photographed locations is the Weingarten Orphanage in Jerusalem, which was documented by photographer Tsadok Bassan in the early 20th century,1 and serves as a point of connection through which Friedman Hallel joins and corresponds with the history of Israeli photography.
The forced gaze that Friedman Hallel composes through the medium of photography produces a visual language that offers further examination of our apprehension and consciousness as individuals and as a society. The artist and the exhibition's curator Reut Ferster chose to present the works in a methodical, almost clinical layout, which traps us without offering respite. It forces the viewer to closely observe the figures and places, while contemplating on the very act of looking and the manner in which it can either reaffirm the conventional perception or resurge the particular and individual existence.
Irena Gordon
1 The photographs were presented in the exhibition Tsadok Bassan – Orphan Girls, curated by Guy Raz at the Jerusalem Artists' House in 2005.