Last watch,Talia Keinan
Curator: Drorit Gur-Ariei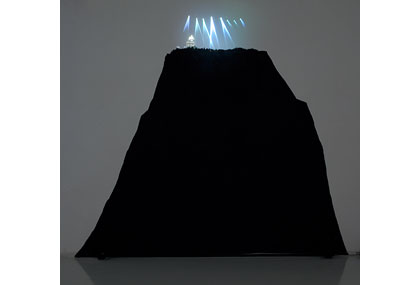 Talia Keinan's installations, combining murals and video screenings and mostly accompanied by sound, reveal various snippets of geographical, social and human landscapes.
The title of the current installation, Last Watch, refers to the last third of the night according to the Talmudic division. The fifteen minutes filmed in the video are an allegory of a psychic or mental state of twilight, between dream and awakening, darkness and light, vagueness and clarity. It is not a narrative but a mood that simulates a pre-sunrise state, when light slowly breaks through the still-dominant darkness of the receding night, in which the blackness still dominates.
In terms of content and form, the image is a play between reality and fiction, the fixed and the fleeting, the precise and the hallucinatory. Although the black mountain is an existing and present place, it resembles the shadow of a mountain more than a mountain. The environment has its own unique rhythm and time, producing a sense of constant activity. The top of the mountain plays host to a number of performances in an associative sequence, combining scenes filmed by the artist with scenes she has downloaded from YouTube and manipulated with different special effects.
The associative sequence of performances evokes themes that are related to the local landscape. Keinan creates movement and links between times and situations, between a private world of internal personal associations on the one hand, and collective images, national myths and initiation rites on the other. The Masada myth resonates as a defining symbol of heroism and self-sacrifice in the name of the idea of establishing the national identity, evoking various rituals of climbing up and conquering the mountain. Along with the idea of constructing a Zionist-Israeli ethos, the performances on the mountain also allude to music and poetry events that belong to contemporary popular culture.
The music for the series of performances on the mountain was composed and performed by Guy Sherff.
The work was purchased for the Petach Tikva Museum's collection by Artvision.