InService
Curator: Or Tshuva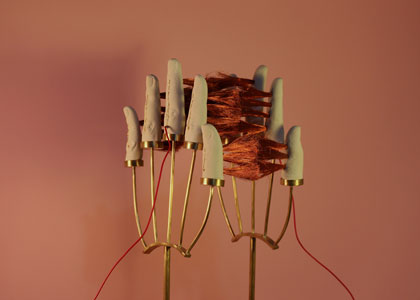 The exhibition focuses on the duality typical of the work of active artists, who simultaneously work as instructors in the Museum's Education Department. The distinction between their role as mediators of art on behalf of the museum and their world as independent artists remains clear for the most part, but in effect, it is an intricate position which may impose a multiplicity of stances regarding the institution and the works of art displayed in it. In the current project, the Museum's art instructors were asked to wear both hats at once. The works they were commissioned to create and exhibit here allude to their pedagogical role in the museum, and are inspired by it.
This curatorial act is a natural continuation of Petach Tikva Museum of Art's self-scrutiny in recent years in a desire to expand and redefine the boundaries of its operation and make its resources accessible to the public at large, as a cultural-political act. Unlike previous projects, in which artists were invited to enter the museum and conduct research in its collection in order to shed new light on the occurrences within and around it, the current commission enables a group of young artists to share their insights about the place as individuals who experience it from within. Among others, it is an initial attempt to propose artistic action as a response on behalf of the museum to the organizational transformations which museums, as cultural institutions, have been required to make in recent years, in an attempt to enhance the transparency of their operation and decision-making processes.
The featured works refer to art mediation and observation, offering a self-reflexive gaze at the role of instructors as a link between the museum and the community. Looking back at the instruction experience, they expose the daily routine of the instructors and the museum outside visiting hours. The link between viewers and artworks is thus introduced not as a by-product, but as artistic practice in and of itself. The familiar cycle, beginning in the artist's studio and ending in the encounter with the art work in the museum, is reversed in the exhibition: the encounter with the work, through the instructors' mediation, is the point of departure and the driving force. The triangular relationship between instructors, audience, and art is presented as a subject worthy of observation and critical attention in its own right. It is also a reminder that the interrelations between institution, audience, and artwork may and should be multidirectional. The audience observes and learns from our practice—but, in fact, we also observe and learn from the encounter with it.