Our best intentions, Einat Amir
Curator: Noam Segal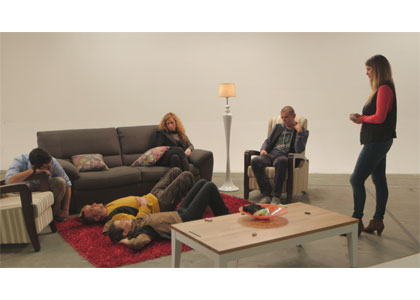 Reserve places for December and January performances at mayak@ptikva.org.il
Closed session performances:
October performances (later dates will be announced in November)
Thursday, October 24th:17:30-18:30 , 19:00-20:00
Thursday, October 31st:17:30-18:30 , 19:00-20:00
FOR RESERVATIONS PLEASE EMAIL: mayak@ptikva.org.il
IT is not possible to enter a performance without a prior reservation.
Einat Amir's solo exhibition comprises two states: a video installation and a performance. The performance invites 20 viewers to take part in a collaborative event, whose participants are divided into four groups, each experiencing a session of group dynamics conducted by a facilitator. It is not possible to enter the performance without taking part in it.
When no performance is taking place, the exhibition space hosts four video screenings. The screenings show one filmed performance, in which the participants have chosen black vests inscribed with words such as "career", "disappointment", "mother", "sex". The participants operate in a space divided into four domestic sections – study, bedroom, dining room and living room. These spaces are also reconstructed in the museum, with the viewers invited to visit them and watch the video installation.
In recent years Amir's work has revolved around the production of laboratory conditions for the study of behavior and culture. This time she does it in a space that resembles the set of a television sitcom, with theatrical dynamics, but accompanied by a team of professional facilitators, and without the presence of cameras, spectators or any other factor that restricts the modes of participation. This event extends over an axis that ranges between performance, acting and authentic participation, and reveals the way we incessantly present ourselves, and the possibility that there is no necessary contradiction between performance and authenticity.
Einat Amir, born in 1979, is a graduate of the MFA program at Columbia University, New York. She works in the media of performance and video. In recent years her work has been shown at various spaces including PS1 in New York, Palais De Tokyo in Paris, Whitechapel Gallery in London andThe Kitchen in New York. The work shown here will be presented as part of the Performa 13 performance biennial in New York.
Performance Credits:
Producer and assistant director: Renana Neuman
Lighting designer: Adi Shimrony
Guides:
Nir Bikels
Dov Blum
Shlomit Mandel
Alit Kreiz
Assael Romanelli
Mami Shimazaki
Video Credits:
Production and Filming Crew:
Project Producer: Renana Neuman
Video Producer: Natalie Melamed
Editor: Noa Barak
Assistant Director: Renana Neuman
Director of Photography: Daniel Kedem
2nd Camera: Irit Sharvit, 3rd Camera: Einav Goodman Giat
Camera Assitant : Idan Yonas
Lightning Designer: Rony Shamay
Lighting Assistant: Oren Gur
Sound Mixer: Sharon Luzon
Art: Ziv Avishai
Production Assistant: Eldad Ravid
Make Up: Vered Oren
Sound Editing: Eyal Shindler
Color Corrections: Hinda Weiss, Idan Yonas
Project's Assistant Producers: Sheri Avraham, Nirit Yaacov, Sivan Reuven, Yael Rechter
Thanks to: Avigail Sperber, Roy Ettinger
Guides:
Igal Ezrati, Mami Shimazaki, Shlomit Mandel, Assael Romanelli
Participants:
Lizzy, Maher, Sigal, Michael, Vienne, Kevin, Kamel, Yael, Lior, Yuval, Jonah, John, Rilli, Roni, Darcy, Raj, Ophra, Vadim, Zoe, Rene